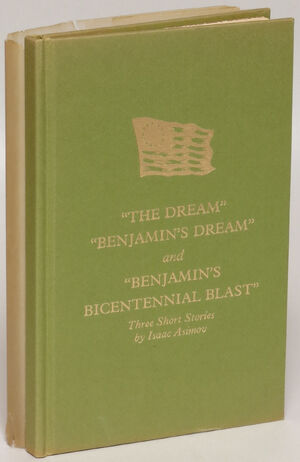 "The Dream", "Benjamin's Dream" and "Benjamin's Bicentennial Blast" is a book by Isaac Asimov.
Published in 1976 by Benjamin Franklin Keepsakes, this book collects three short stories commissioned by The Saturday Evening Post in 1974 for the Bicentennial. A fourth story, "Party by Satellite," was part of this series, but not included here.
Synopsis
The ghost of Benjamin Franklin learns that some of his dreams of a nation of free men, vital to the birth of the United States, have come true, and that some dreams are still elusive.
See Also
Ad blocker interference detected!
Wikia is a free-to-use site that makes money from advertising. We have a modified experience for viewers using ad blockers

Wikia is not accessible if you've made further modifications. Remove the custom ad blocker rule(s) and the page will load as expected.